Within and Around New York City

Within the Interactive Fictional World of

Population

815,000

Army & Navy

Banks

Colleges

Departures

Government

You may visit:

Hospitals

Lodging

Other

Explore or Leave this Island Coastal Fortification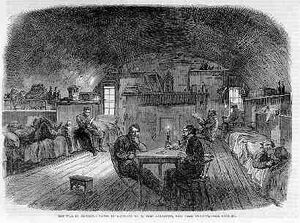 Word in the Fort
Edit
Fort Lafayette is an island coastal fortification in New York Harbor, built next to Fort Hamilton at the southern tip of Brooklyn.
In the years before the 1861, the fort's 72 heavy cannon commanded the primary approaches to the harbor, but during the Civil War, the casemates are used to house Confederate prisoners of war and politicians opposed to Abraham Lincoln's administration policies.
Ad blocker interference detected!
Wikia is a free-to-use site that makes money from advertising. We have a modified experience for viewers using ad blockers

Wikia is not accessible if you've made further modifications. Remove the custom ad blocker rule(s) and the page will load as expected.