Within Washington, DC

Time Period

Late August 1861

Within the Interactive Fictional World of

Population

75,000

Army & Navy

Colleges

You may visit:

Departures

You may visit:

Georgetown's Ferry Boat Landing – S to Mason Island Boat Landing, and Arlington, VA
Long Bridge – S to Ft Jackson and Ft Runyon, Alexandria, VA
Toll-Gate Northwest- NW to Baltimore, MD
Toll-Gate North- N to Leesborogh, MD
Toll-Gate Northeast- NE to Tannallytown, DC
Toll-Gate East- E to Ft Mahan
Toll-Gate West- W to Langley, VA
Eastern Branch Bridge – E to Union Town, DC; Washington Navy Yard,
Baltimore and Ohio Railroad Station – trains to all northern cities

Government

You may visit:

Hospitals

Lodging

Other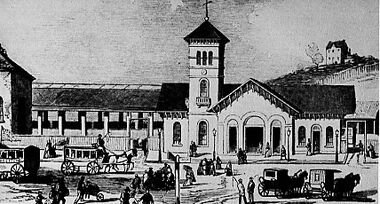 This station is a busy place.
Trains wheez into and out from the Baltimore & Ohio Railroad station - just a few blocks north of the Capitol building.

Hackney Coaches pull up with people about to depart by train. Quickly, they are hired by people who have arrived by train. Then, just as quickly, they scurry off into the city.
You step up to a large sign by one of the ticket-masters and it features various directions, states, city destinations, the population for each city, and the distance in time and cost for the ticket to each city. You stand in line, and when it is your turn, the ticket-master looks at you from behind the iron-grate and asks, "Where to?" And, then, "Do you have the money for your ticket?" Or, are you in the wrong line. Did you just get off a train?
Departures by Rail

LISTINGS

Trains departing for these cities, with states, populations, distance time, and cost per ticket.

DEPARTURES

NORTH

NORTHWEST

MI, Lansing, 45,000p, 36 hrs, *$24
MN, St Paul, 10,000, 44 hrs, *$32
WI, Milwaukee, 45,000, 40 hrs, *$28

NORTHEAST

WEST

SOUTHWEST

SOUTH

All departures to southern states canceled due to war.

ARRIVALS
Ad blocker interference detected!
Wikia is a free-to-use site that makes money from advertising. We have a modified experience for viewers using ad blockers

Wikia is not accessible if you've made further modifications. Remove the custom ad blocker rule(s) and the page will load as expected.