Desconectas y arrojas el dispositivo
Edit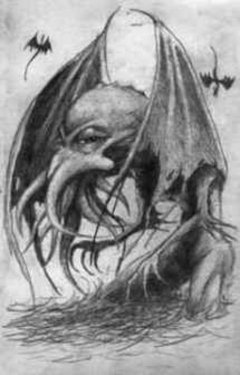 Tardas unos instantes en recobrar la visión tras lanzar el aparato... pero al hacerlo te das cuenta de que tal vez habría sido mejor no haberla recobrado nunca.
En el lugar donde por última vez viste a la mujer, la imagen de un espantoso y enorme ser con cabeza de pulpo de numerosos tentáculos se encuentra ante ti. Su cuerpo escamoso está compuesto de una sustancia que, a pesar de tu experiencia como científico químico no atinas a reconocer. Parece distinta a las que se encuentran de forma natural en las especies de nuestro planeta, como alguna clase de masa gelatinosa de tonos metálicos que parece moverse a voluntad del monstruo.
Observas cómo sus tentáculos vibran, produciendo un silbante sonido que casi dejaría entrever la forma de unas palabras ininteligibles...
"Ph´nglui mglw´nafh Cthulhu R´lyeh wgah-nagl fhatgn"
En ese momento, sin saber el motivo, comienzas a reír a carcajadas... Casi no puedes controlar tu mandíbula... Crees que estás enloqueciendo... Lágrimas de desesperación comienzan a surcar tus mejillas al tiempo que tu amarga y espantosa risa inunda la habitación vacía donde yacen los cadáveres aplastados de tus compañeros, adheridos a la sanguinolenta pared.
FIN
---
Comenzar otra vez - Play again
<<<Esta página es una parte de Atrapado en el Tiempo - This page is part of Atrapado en el Tiempo.(Go to category)
Ad blocker interference detected!
Wikia is a free-to-use site that makes money from advertising. We have a modified experience for viewers using ad blockers

Wikia is not accessible if you've made further modifications. Remove the custom ad blocker rule(s) and the page will load as expected.